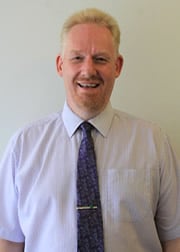 Adrian trained with BDO Binder Hamlyn (now part of Deloitte) in Birmingham after joining as a graduate trainee in 1988. He joined Griffiths & Pegg in 1992 and became a partner in 1995.
He concentrates substantially on corporate accounting, auditing and taxation. He also has varied experience in personal taxation, enquiries, financial forecasts and looks after the majority of new business and the marketing of the practice.
He is married with two children and two step-children. He main pursuits are travel, football (West Ham United) and music (Marillion).